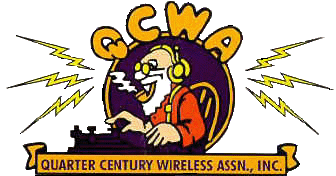 National Capital Chapter 70 - Ottawa, Canada
Frequently Asked Questions
---
---
What is the QCWA?
QCWA stands for the Quarter Century Wave Association, a US based, worldwide organization for amateur radio enthusiastists who have been licensed for more than 25 years (not necessarily continuiously). The QCWA has "chapters" all around the world of which our chapter, Chapter 70, is one.
Click on the "About QCWA" button at the top of the page for more information.
---
Where can I learn more about the Chapter?
The best way to learn about the Chapter is to click on the "About Us" button at the top of the page. You might consider joining of of the weekly breakfast meetings to meet some of the other members and ask questions of them.
---
How do I join the Chapter?
You first need to be a member of QCWA (see below) then download and Chapter 70 application form (here). Once you return the completed, (and paid your dues) you will be notified of your new member status.
Welcome to the chapter!
---
How much is the Chapter membership?
Chapter 70 membership is $15/year and runs by the calendar year. Multi-year memberships are available (1, 2, 3 years) for $15/year. All one-year memberships expire Dec 31, regardless of when they commenced. We ask that you renew your Chapter 70 membership in the Fall, before it expires on Dec 31.
Payment may be made either by Interact E-transfer to: qcwa70.payments@gmail.com or by sending your payment (cheque) to the Chapter Treasurer at:

Bryan Rawlings VE3QN
31 Amberly Place,
Gloucester, ON K1J 7J9
---
How do I become a QCWA member?
You will find everything you need to know here, on the QCWA website, including the member application and other information.
---
I've been licensed for over 50 years. How do I get my certificate?
The "Anniversary Certificate" is issued by QCWA Headquarters to celebrate the 30th anniversary and above of licensing. Digital PDF certificates are issued without charge to eligible members, and are normally arranged for and presented by Chapter 70 at our May meeting each year. You can also request a certificate yourself if you wish. Mailed certificates do have a charge. Anniversary Certificates are issued in five (5) year increments with special awards for 70 years or more.
You can find out what awards you are eligible for by going to the "Members Only" section of the QCWA International website (here). Once on your membership page, click on the "Create Member Award" link. On that page, you'll find links to what awards and certificates you are eligible for. You can also download a membership certificate or membership card.
---
---