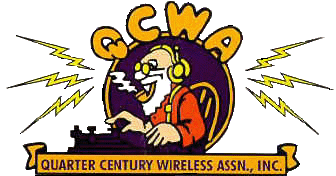 National Capital Chapter 70 - Ottawa, Canada
About QCWA
---
---
HISTORY OF QUARTER CENTURY WIRELESS ASSOCIATION, INC
Late in the year 1947, a group of radio amateurs got together in mid-town New York City to discuss the establishment of an organization dedicated to fostering and developing friendship and co-operation among amateur radio operators of more than twenty-five years standing, making use of the reservoir of knowledge and experience represented within the membership for the benefit of all radio amateurs, and for the furtherance of the public welfare through amateur radio communication. Under the name "Quarter Century Wireless Amateur Club", the new organization, at its meeting on December 5, 1947, elected John DiBlasi, W2FX, as its president, John A. Stobbe, W2WZ, as vice-president, Leon A. Hanson, W2FIT, secretary, and David Talley, W2PF, treasurer. Some thirty-four members were present at the organizational meeting and they, together with another twenty area amateurs who joined before December 31, 1947, were designated charter members of the fledgling club.
In 1949, the club was established as a non-profit membership corporation of the State of New York, -- Quarter Century Wireless Association,, Inc. -- and began attracting interest, first on a national scale, and then internationally. The familiar logo of a bearded, pipe-smoking Old Timer working a key was adapted by Otto Eppers, W2EA, from a cartoon in QST. As membership grew, chapters were established beginning in 1951, and a quarterly bulletin, QCWA News, began circulation to carry news of Association activities to members. In 1950, annual QCWA QSO parties were inaugurated.
By the end of 1973, active membership in QCWA exceeded 6,000 and 68 chapters had been chartered, including one in Sydney , Australia, the first to be chartered outside the United States of America. As of June 30th, 1997 there were 196 Chapters world-wide that had joined the organization.
Membership certificates are serial numbered,and the current new members are receiving numbers over 38,000.
QCWA, Inc Presidents
1947 - 1964 John DiBlasi W2FX

1965 - 1968 Earl Thomas W2MM

1969 - 1971 Clarence Seid W2KW

1972 - 1973 Barry Goldwater K7UGA

1974 - 1977 Frank Gunther W2ALS

1978 - 1981 Harry Gartsman W6ATC

1982 - 1985 Stuart Meyer W2GHK

1986 - 1989 Leland Smith W5KL

1989 - 1994 Harry Dannals W2HD

1994 - 1996 Lew McCoy W1ICP

1996 - 1998 John Kelleher
1998 - 2002 Gary Harrison K0BC

2002 - 2004 Croft Taylor VE3CT
2005 - 2008 John Johnston W3BE

2009 - 2012 Bob Roske N0UF

2013 - Pres Ken Oelke VE6AFO
For more information on QCWA click here
Click here for information on becoming a QCWA member.
---
---