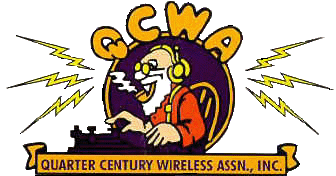 National Capital Chapter 70 - Ottawa, Canada
VE3QN Biography
Bryan Rawlings - QCWA #32626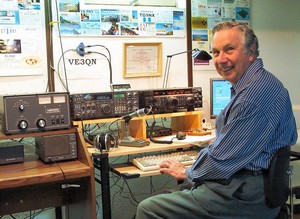 ---
---
Background
Grew up in Montréal. Attended elementary and high schools in Montréal
Education / Employment History
Graduated 1964 from Loyola College with a BSc (Math) from Université de Montréal
Employed 1964 to 1994 by Bell Canada. In Montréal, between 1964 and 1978, worked in traffic engineering, operator services, Business Information Systems and, finally, as Director of Network Operations (Québec Region)
Lecturer: Dow Planetarium 1966 - 1972
Part of a Bell team that visited Saudi Arabia in 1968 and bid on a contract to manage their new telephone system. In 1978 when Bell won a major telecommunications contract in Saudi Arabia, moved with his family to Riyadh and worked as Director of Network Operations on what was then the largest telecommunications contract in history.
School Board Chairman: Riyadh International Community School 1979-1982
Upon returning to Canada in 1988 was assigned to Telecom Canada in Ottawa as Director of Network Operations.
In 1992 moved to Moscow to head a small joint venture between Bell Canada International and the Moscow Local Telephone Company.
Retired from Bell Canada in early 1994. In early 1995 returned to Riyadh and worked with Saudi Telecom as General Advisor – Network Operations.
Has been (actively) retired since returning to Canada in early 2002.
---
Amateur Radio History
1959 – First licensed at age 16 as VE2AME in Montréal. Former Director Montréal Amateur Radio Club.
1988 – Upon moving to Ottawa assigned VE3RBE
1993 – Received the two-letter call sign VE3QN. Also holds the call VE2QNN.
---
Additional Information
Active on 80m through 70 cm using CW, SSB, PSK31, RTTY and SSTV. Also FM on 6m, 2m and 70 cm. Take turns as Net Control Station for the "247 DX Net".
Member of PARC, OARC and OVMRC. Presented "The W8NUE Modem – A New Way to Work PSK31 Portable" at OARC in March 2009.
Member of RAC, ARRL and the International Amateur Radio Club (4U1ITU). Since December 2006 Has been the RAC Special Advisor for the World Radiocommunication Conferences. Presented "New Bands for a New Century" at RAC Forum 2009.
Member of QCWA and Chapter 70. Served as Chapter 70 Treasurer (2007-2009). Gave a presentation on "The QSL Process – LotW and eQSL" at the Chapter 70 November 2008 dinner meeting. Presented with QCWA "55 Years Licensed" Golden Certificate and lapel pin at the Chapter 70 May 2014 dinner meeting.

---
---