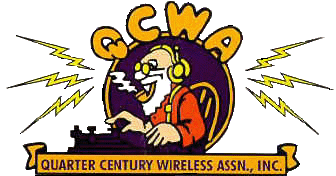 National Capital Chapter 70 - Ottawa, Canada
Chapter 70 HOME Page
---
---
Who Are We?
The Quarter Century Wireless Association, Inc. (QCWA) is an organization of licensed amateur radio operators (Hams) who were first licensed at least 25 years ago. It is not required that licensing have been continuous during that period. Our chapter (70) is one of the 230 world-wide chartered chapters.
Our members share a common interest (passion?) for amateur radio and promote friendship and cooperation amongst like-minded individuals.
Our chapter holds quarterly meetings on the third Tuesday of February, May, September and November and are currently being held via the Internet. In addition to the quarterly meetings, our weekly open breakfast is popular with our members (see below).
---
Upcoming Chapter 70 Meeting
Chapter meetings will continue to use the Zoom technology until such time as we can resume in-person meetings.
Meeting details:
Topic: Amateur Radio at the Diefenbunker.
Speaker: Nick Shepherd, VE3OWV.
Details: Nick has been a volunteer at the Diefenbunker, Canada's Cold War Museum for almost 20 years now and he is the go-to person for VE3CWM (Cold War Museum). The Museum has a small cadre of Ham volunteers who operate the station during visitor hours (when the Museum is open) and help introduce the public to the wonders of Amateur Radio.
Nick will provide an overview of the station layouts over the years and what they have today in terms of equipment and capabilities. Nick has provided the technical glue that has kept VE3CWM operating over the years.
Date: Tuesday evening, February 28, 2022.
Time: The Zoom Session will be open for Check-ins and Greetings starting at 7 pm, the meeting Call-to-Order will start at 7:30 pm.
---
Weekly Open Breakfast
Note: In these "interesting" times, it is best to check with the restaurant to ensure they are open.
The group of the QCWA Chapter 70 faithfuls who usually assembled at the Summerhays Restaurant (1971 Baseline Road) (map) on Tuesday mornings in pre-Covid times has started up again. If you're comfortable getting together, drop by for some great ham radio conversation with some familiar faces. Breakfast is at 8 AM, give or take a bit. Of course, for those attending, the restaurant will require you show your proof of Covid vaccine QR code.
---
Chapter 70 VHF Net
Join us for the 2 meter net on Monday evenings at 19:30 on VE3OCE (146.880 MHz, -600Kc offset, 136.5 Hz tone). Our callsign is VE3QCW. Non-members are welcome.
---
Upcoming Chapter 70 Events
We have nothing planned at this time. Watch this spot for information on upcoming events.
---
---